Get free monthly Equifax credit score monitoring.
Open a MogoAccount in 3 minutes to discover your Equifax credit score without affecting it.
Monitor my score
Why you need to monitor your credit score
Want to qualify for a prime mortgage? You'll typically need a score of 700 or above. The higher your score the better chance you'll have at being approved for loans and at the lowest rates. Mogo has partnered with Equifax, the largest credit bureau in Canada and the one used by many banks and finance companies to monitor your credit score. It shows how trustworthy you are when it comes to money.
Poor
At this score, it's likely difficult to get access to score dependant services (like financing), but don't worry: time heals all wounds and you can improve your score over time.
Fair
With some work, this score can get on track to great! The higher you get, the more open lenders and landlords are to work with you. Fun fact - couples whose credit scores are similar are 24% more likely to stay together. Nice.
Good
Most Canadians are in the 660 range, which is considered pretty good! Don't let your score settle under 680 though. Having a score over 680 will get you better mortgage rates and allow you to qualify for a higher mortgage.
Very good
With a score like this, you're definitely on track! You're likely a desirable candidate to lenders, and to landlords and employers who check credit scores.
Excellent
Impressive! You're clearly handling your finances like a boss. This score, combined with your income, should make financing and approvals from lenders, landlords, employers, etc. easy peasy.
Rockstar
Wow! Consider your finances ruled. It's easy for you to get a loan with the best rates possible. Services that check credit scores will have high expectations from you. Did you know, 67% of Canadians would choose a partner with a good credit score over good looks?
How it works
Sign up and get your credit score right away
See your score for free, no strings attached, with no impact to your score.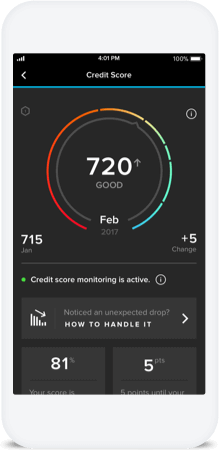 Get notified every month
Your credit score changes over time based on your financial habits, and we send you your updated score every month.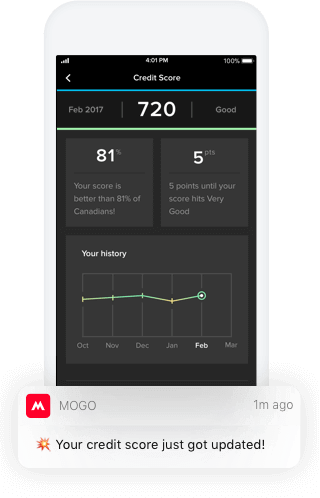 Get on top of your financial life
Learn how to improve your score

Track your score monthly and keep a close watch

Rule your score and achieve your financial goals
Detect identity fraud
A stolen identity could cost you a lot of money and time. Help protect yourself against identity fraud with MogoProtect.
More on MogoProtect
Get smarter with MoneyClass
We'll give you tips and tricks to guide you every step of the way and help you make the best money moves.