If you need to borrow, do it responsibly
Sometimes we need credit — it happens. The key is to not make it a habit and to use it responsibly. With MogoMoney, get a pre-approval that doesn't impact your credit score and a transparent loan experience that will help you get debt-free faster, so you can get back to saving.
Take the stress out of borrowing
Get your no-obligation loan pre-approval in just 3 minutes. Have a question about your loan? Chat online with our Product Specialist team!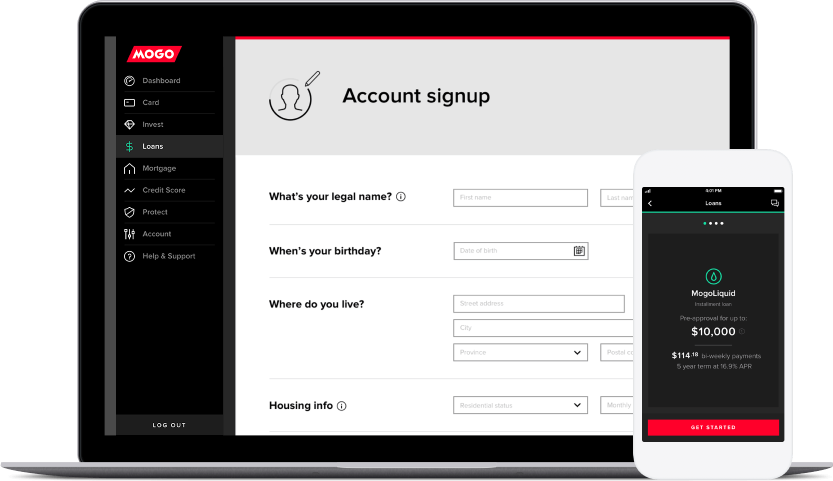 Get out of debt faster
With on-time payments, you could access lower rates or higher loan amounts. When you open a MogoAccount, you get a personalized dashboard. Depending on your MogoMoney product, you could see your payment amount, progress, and more.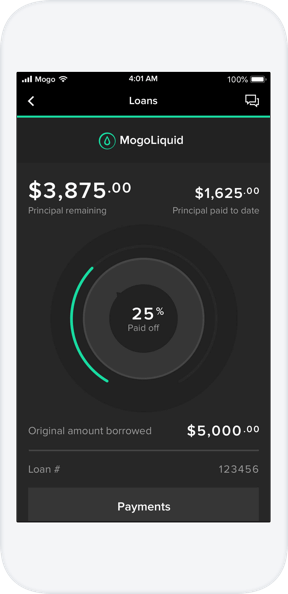 How much can I save?
Credit cards have an endless term that can keep you in a dangerous and expensive debt cycle. Installment loans, like the MogoLiquid loan, have a fixed term. With a fixed term loan, you can save thousands on interest compared to a credit card - even at the same interest rate.
Cost comparison
Installment loan
5
Years to pay off
$5.8k
Total interest
Credit card
121
Years to pay off
$24k
Total interest
A 100-day test drive
With most of our loans, if you don't love your loan experience within the first 100 days, just pay back your principal and we'll refund those first 100 days of paid interest and fees.
Know your credit score for free
Get your Equifax credit score, which will be updated every month, all for free—no conditions, no other charges. Use it to track how your financial health is improving over time with Mogo's unique dashboard.
More on credit score
Personal loans with rates for everyone.
With loans up to $35K, we have a wide range of options for you, whether your credit background is awesome or meh.
Our Rates
But wait, there's more!
Flexible terms

All of our loans can be paid off in full at any time with no penalty.

Your info is safe

Everything is encrypted and uses bank-level security.